ZEFIR – specification in details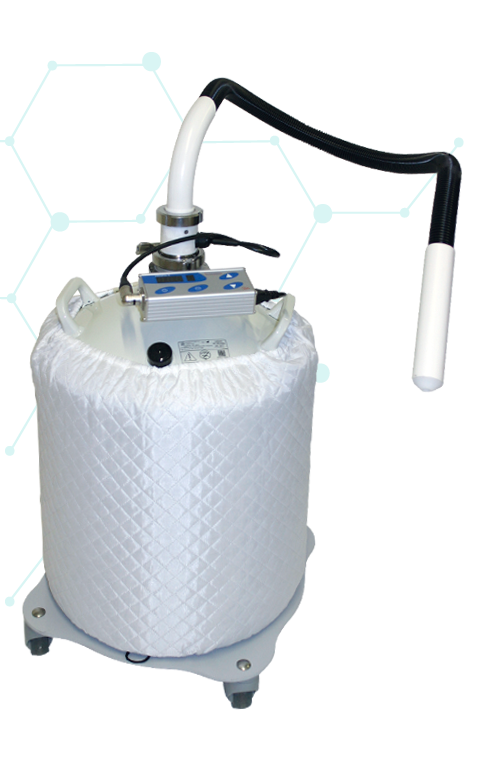 ZEFIR
Local cryotherapy ZEFIR is a very simple medical device that can be used by everyone. Its advantage is a simple operation that can provide effective medical/therapeutic effects. For our customers, we have developed a detailed video manual that will make the construction of ZEFIR very easy and takes you only a few minutes. For specific treatments, we've developed an Encyclopedia of Possible Disabilities to see exactly how to treat the particular issue.
What is local cryotherapy?
Local cryotherapy is a modern therapeutic method based on the principle of thermal exchange of energy. It is applied to injuries when by rapid cooling of the affected boy part, we get pain relieve / analgesic effect is lasting up to several hours / and for subsequent treatment. Local cryotherapy is a method used in rehabilitation and sports medicine, regeneration and dermatology, but also for long-term treatment and chronic diagnoses. The negative minus energy of local cryotherapy (up to -160 ° C) is applied to the affected area, this cold energy at the affected area generates a beneficial healing reaction when the body subsequently reacts by setting its mode of accelerating natural healing processes that could otherwise not occur spontaneously. After local cryotherapy, massive blood circulation takes place in the treated area, thus healing processes are initiated, hence multiple accelerations of substance and hormonal exchange. From the affected area treated by local cryotherapy, the harmful substances that have been caused by injury are flushed away much faster and more efficiently via the venous and lymphatic system. Fresh, adequately oxygenated elements full of nutrients and hormones are delivered instead, all by the natural reaction to the minus temperature of your organism
Local cryotherapy is also suitable when combined with medication, significantly reducing and shortening overall treatment time. Acceleration of these processes greatly helps your body to regenerate affected areas, this concerns wide range of diagnoses found in our encyclopedia also with treatment recommendations.
Where is our device suitable to be used?
healthcare
sports medicine
physical rehabilitation
spa rehabilitation and regeneration
sport clubs
regeneration centers
fitness clubs
massage parlors
beauty salons
geriatrics
retirement homes
hotels with treatment programs
cosmetics and dermatology (alopecia, cellulitis, and psoriasis)